New version of BeneMailer, our mailmarketing platform
Posted by Tim Bertens on 01/12/2008
Today was a big day for BeneMailer. Our mailmarketing tool has been upgraded and brought back to live this morning. A short overview of new features you might find very useful
Single click design and spam testing
Testing your design in all the different email clients is the most frustrating part of sending email campaigns. Our design and spam testing tool changes all that by doing the hard work for you. Send free tests to any address you like, or for a small fee (and a single click) see your email as it appears in over 20 different email clients like Lotus Notes, Hotmail, Outlook 2007 and AOL. We'll also run your campaign through popular spam filters at the desktop, server and firewall level before you send it.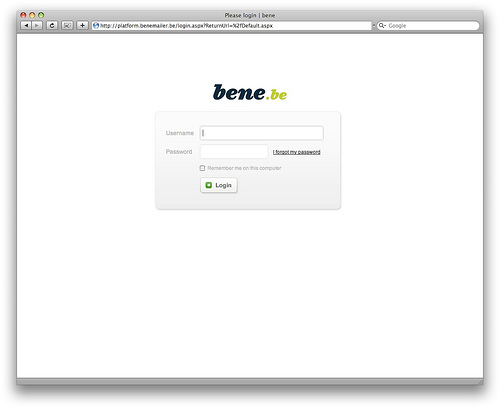 More ways to express yourself
If you need more than a mail campaign based on predesigned template, you can now create your email designs using your favorite tools and then import them into your account with the click of a mouse. We'll automatically move all your CSS inline for the best results in email clients like Gmail and Outlook
Reporting, from big picture to close-up
Our reporting makes it easy to zoom right down to the subscriber level and see a timeline of exactly what they did with your email. Take this a step further and see your lifetime history with that person. Which campaigns did they open, what links were they interested in, how many times have they forwarded my emails?
Statistics like open and click rates are useful for each campaign, but it's when you start comparing results over time the data really shines. By looking at trends, our compare campaigns report makes it easy to see exactly what is and isn't working in the emails you send. It is even possible to fully integrate with Google Analytics so you can track your sales and conversions
Get your campaings delivered even better
Email authentication allows our customers to prove they are who they say they are. Using technologies like Sender ID and DomainKeys you can protect your reputation and improve the chances of getting delivered. BeneMailer is integrated into the feedback loop of ISP's like Yahoo, Hotmail and AOL. We can detect if a subscriber marks you as spam, and remove them from your list automatically. We automatically detect different types of bounces and react accordingly. Undeliverable addresses are removed immediately, temporary fails are given additional chances before removal based on best practice.
You want your own newsletter? Contact us today!
Be sure to visit our Flickr set on Benemailer to see more detailed screenshots!
---