New Adventures in Web Design - Nottingham
Posted by Benedikte Vanderweeën on 25/01/2011
I regret not having written about the EECI we attented back in october 2010 held in Leiden because the New Adventures (referred to as #naconf on Twitter and Flickr) reminded me of the excellent speakers and the friendly and open atmosphere. These events contain so much good ingredients that you always feel so inspired afterwards.
The first evening we had the pleasure to dinner with some lovely Nottingham people, Nigel,a former colleague of Tim, and Debbie. Debbie, who's an artist, recommended us to visit the Nottingham contemporary museum. We didn't do this because our trip was shamefully short.
Reaching maturity
About the topics
The day of the conference started with a warm welcome from Colly. Dan Rubin kicked the day off by talking about the language of web design, the maturing process in which we have to find our own independent language as web designers.
It was the second time I saw Mark Boulton speak. I like the fact that his topic has a historical perspective, he touches some names and historical facts that are a starting point, a beginning of a thinking process. You can draw the parallels with web design yourself.
The need for a new canon in the web design industry was his topic where he made a comparison with the French architect-modernist Le Corbusier. Designers and architects/builders in general can be influenced by ideas, by structures in their work but they always need to relate to the context in order to be accepted. Some great examples he gave of the opposite, like megalomania in architecture.
A movie i saw a long time ago popped up in my mind: Play time by Jacques Tati, a film in which people are surrounded by new modern buildings, new modern structures of living and the way this modern thinking alienates people from each other because the context didn't grow organically, people respond to it by feeling impersonal. That's my own interpretation of the talk. If you have the change to see this film, you should.
Sarah Parmenter talked about AB/testing, differences in cultures (she showed a great graphic to demonstrate this), she also wrote a post about her experience as a speaker on conferences. I liked her personal approach and felt she did a great job in explaining her experience as the owner of the web agency You know who design
Elliot Jay Stocks showed us examples of web designs that are "over designed". He gave some insightful tips to be cautious when designing, to keep things simple.
I know the name of Jon Tan because of the beautifully designed website Analog. The lizard brain referred to a small part in the brain that we use to feel, to act intuitive. Jon talked about the need to act more with feeling, to let our emotional brain speak.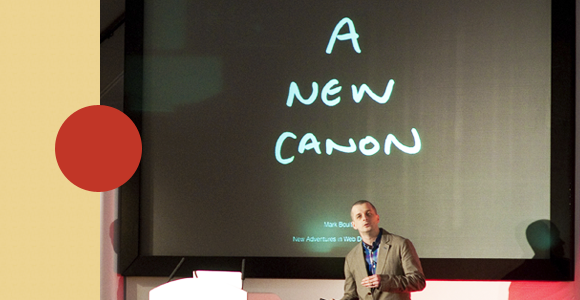 Mark Boulton - A new canon picture by Designbyfront
The afternoon
A continuous list of so much great talks. I would like to have more words to describe their contribution to the event but i'll cover the things i remember the most.
Tim Van Damme started his talk right after the lunch break. He touched some real interesting points on evaluating your projects after delivering - learn from your mistakes in order to grow as a designer. Educate your clients when communicating with them and never forget to help other people in the industry.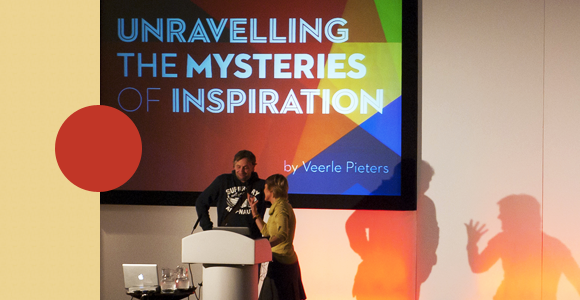 Veerle Pieters - Unravelling the mysteries of inspiration picture by Robert Sedovšek
Veerle described the process of unravelling the creative process. She showed some good examples of some of her work and analyzed the ways that brought her to this or that design decision. The slides she made were a good example of her excellent use of color throughout her work. She talked a bit more about the need of a visual firewall, the inspiration stream on her blog - collect only the works of inspiration that set a high standard for yourself.
Some time ago, I did a little interview with Veerle about "Editorial web design" on this blog, the topic Gred Wood talked about on the conference. He demonstrated the real difference between content with good editorial design and the fact that it really makes a difference.
Too bad I don't remember watching "Once upon a time in the west", the movie fragments Andy Clarke used in his talk to demonstrate the storytelling and rhythm flow. He gave more examples of this by showing comics and advised a great book written about the subject: Understanding comics by Scott McCloud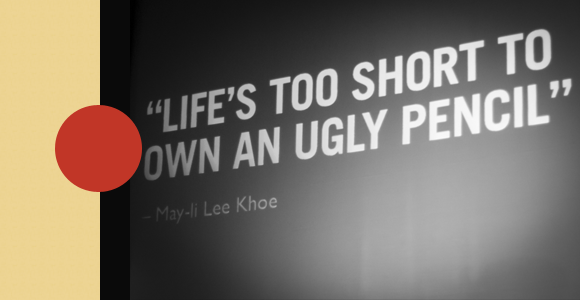 Brendan Dawes - Produced for use picture by Marc Thiele
Brendan Dawes had a great title for his talk "Life is too short to own an ugly pencil". His talk was in every way hilarious but contained so much great content for a designer to carry along. Visit his personal website and read his notes on design to feel inspired instantly!
After this fantastic day, I had the pleasure to chat with Robert, Dion, Geert and Veerle. At the after-party and during the day, I was happy to meet and say hello to lovely Angela, Low, John Henry, Tim and Gwenny and Nate Croft,photographer of the event.
I'm not a regular conference attendee, this was my 5th conference or so i attended but I enjoyed my short trip to Nottingham and would like to thank Colly again for this wonderful event. Too bad we don't have a similar event in Belgium - designers/artists oriented events are rare.
Other great events
List of similar conferences
Other great posts
Small list of visited resources
---