Interview with artist Benoît van Innis
Posted by Benedikte Vanderweeën on 19/01/2010
One of the websites I made in the spring of 2009 was for a Belgian contemporary artist/painter/illustrator and friend of mine, Benoît van Innis. His website is a portfolio of his artworks and projects.
Recently, I did an interview with Benoît, asking about his work method and the things inspiring him.
The interview was done in Dutch but i'm translating it to English. (I'm not a native English speaker, I appreciate your correction/comment)
Questions:
Kan je jezelf kort voorstellen
Ik ben een plastisch kunstenaar. Ik maak vooral schilderijen (meestal olieverf) en tekeningen (meestal met inkt). De laatste 12 jaar heb ik vaak gewerkt met architecten in het kader van integratie van kunst in privé- of openbare gebouwen. Zie ook mijn website bij projecten: Benoît projecten
Can you present yourself shortly?
I'm an artist. Mostly, I make paintings (oilpaint) and drawings (mostly ink drawings). The last 12 years, I cooperated mostly with architects to execute a work of art in private or public buildings. See my Projects on my website : Benoît projects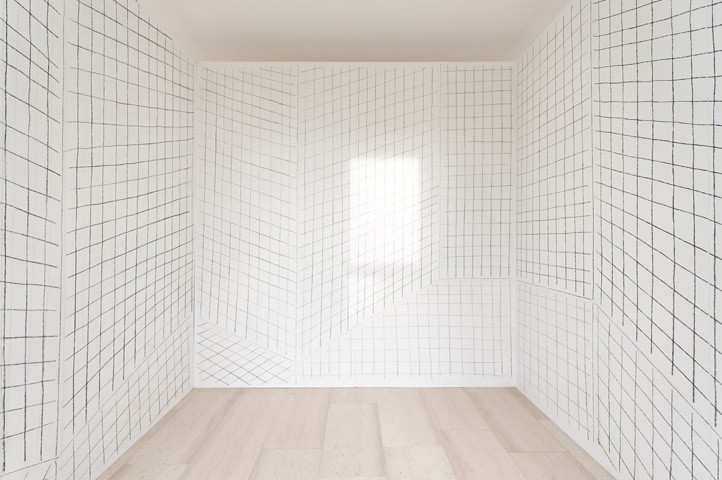 Over je werk: schets je eerst je ideeën uit? Hoe is je werkproces? Heeft het een specifiek patroon, verloop?)
Ik heb geen specifiek patroon. Mijn werk is zelden "geprogrammeerd". Mijn werk is een constante evolutie, bepaald door ontmoetingen, vragen, uitdagingen. Vaak heb ik de indruk dat het werk (een idee, een onderwerp) naar mij toekomt. Vijf jaar geleden had ik onmogelijk kunnen zeggen waarmee ik nu vandaag bezig zou zijn. Enkele voorbeelden: sinds een tiental jaar ga ik in november olijven plukken in Italië. Met de jaren is dat onderwerp (de olijvenpluk) in mijn werk geslopen.
Enkele jaren geleden vroegen de noA-architecten mij om verschillende behangpapieren te ontwerpen. Ik zou er zelf nooit opgekomen zijn. Tijdens een reis in Finland zijn de eerste ideeën voor het behangpapier ontstaan toen ik tijdens de lange bustochten naar de eindeloze sneeuwlandschappen zat te turen en uit verveling wat sneeuw probeerde te tekenen.
Een tijdje geleden vroeg de pianiste Claire Chevalier mij om tekeningen te maken op muziek van Satie en Poulenc. Ik kan geen noot lezen. Het werd een openbaring, iets dat mijn werk enorm beïnvloed heeft.
Vorige zomer werkte ik aan een reeks tekeningen eerst geïnspireerd op muziek van Satie. Plots kwamen daar twee nieuwe onderwerpen tevoorschijn: "Christus bedaart de storm" en "De val van Icarus".
About your work: do you first sketch your ideas? How is your workflow? Has it a specific pattern?
I don't have a certain pattern in my work method. My work is never "programmed". My work is more an evolution, influenced by meeting other people, certain questions I have, challenges. I sometimes have the impression that the subject, the idea of a work comes to me. Five years ago, I couldn't tell with what work i'm involved today. A good example is this: since a couple of years, every november of the year, I go picking olives in Italy and this topic has become a subject in my work.
Some time ago, the noA-architecten asked me if I was interested to design wall paper. I would never come to this idea. The first ideas for the design of the wall paper raised when i was in Finland. On the long bus rides, I was watching the endless snow landscapes and to kill time, i tried to draw snow.
A while ago, the pianist, Claire Chevalier asked me to make drawings on the music of Satie and Poulenc. I can't read music at all. It was a revelation, an experience that influenced my work a lot.
Last summer, I worked on a series of drawings inspired by the music of Satie. Suddenly, 2 subjects were revealed: "Jesus calms the storm" and "The fall of Icarus".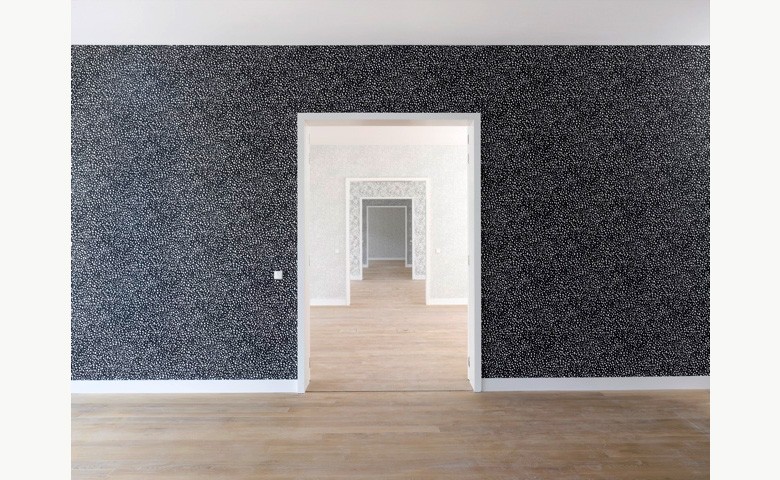 Aan wat werk je momenteel?
Aan veel dingen tegelijkertijd. Momenteel bereid ik een groot project voor een kunstintegratie voor het bedrijf SDWorx. Door tal van technische beperkingen (o.a. de akoestiek) ben ik op een heel nieuwe manier van werken met tegels gekomen. Daarnaast werk ik verder aan reeksen tekeningen en schilderijen en bereid ik enkele tentoonstellingen voor.
What are you working on right now?
I'm working on different things simultaneously. Currently, I'm working on a big project. It is an artwork integration for SDWorx, a belgian company. Because of limitations (acoustic), I found another way of working with tiles... I'l also working on a series of drawings and i'm preparing some exhibitions.
Wanneer je in opdracht werkt, hoe start je het project dan meestal? Krijg je een gedetailleerde opdracht omschrijving of heb je daarin zelf veel vrijheid? Kan je een voorbeeld geven van een gepresteerde opdracht?
Het is heel belangrijk dat er een nauwe samenwerking is met de bouwheer - de architecten en de kunstenaar. Anders vind ik kunst in openbare ruimtes al te vaak zinloos. Elke opdracht is een ander verhaal. Dit is juist zo boeiend. Ik heb geen schrik van nieuwe uitdagingen, integendeel het stimuleert mij en geeft mij nieuwe ideeën.
If you work on a project for someone else, how do you usually start the project? Do you get a detailed brief or do you have a lot of freedom? Can you give an example of a past project to demonstrate this?
A good relationship between the engineer, the architects and the artist is very important. Otherwise, art in public spaces is mostly irrelevant. Every commission is a different story. That's what makes it interesting. I don't fear new challenges,on the contrary, it stimulates me and gives me new ideas.
Heeft je werkomgeving een invloed op je inspiratie of je werkproces?
Natuurlijk. Je moet ook weten dat alles invloed heeft. In mijn geval is een atelier heel belangrijk. Ik heb momenteel een heel mooi atelier waar ik mij heel goed voel. Het werkt zeker inspirerend.
Does your work environment have an influence on your inspiration or work process?
Naturally. Everything has its influence. My workplace is very important to me. For the moment, I reside in a beautiful art studio in which i feel comfortable. This place works as an inspiration.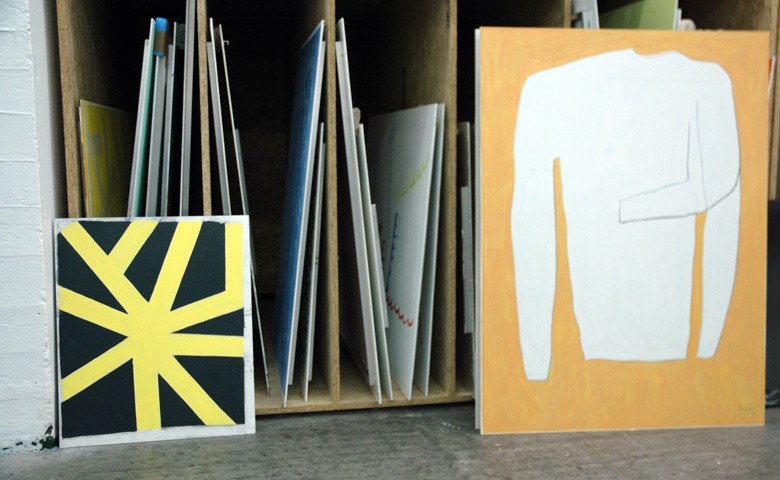 Wat doe je meestal om je te herbronnen en je batterijen terug op te laden?
Niks speciaals. Af en toe op reis gaan kan deugd doen. Regelmatig de Prado in Madrid bezoeken is telkens een herbronning.
De zaterdagnamiddag speel ik voetbal wat heel belangrijk is voor mijn mentaal evenwicht. Ik lees ook heel veel, tussen de werken door, in mijn atelier. En naast het geïsoleerd en eenzaam leven overdag in mijn atelier (een soort kluizenaarsbestaan tussen 9 en 19 u) doet het ook deugd om 's avonds met vrienden een pintje te drinken, te roken, te praten en onnozel te doen.
What do you usually do to recharge your creative batteries?
Not special. Traveling can do good. I regularly visit the Prado museum in Madrid, this feels like a rebirth every time.
Every saturday, I play football, this is important for the mental health. I my studio, when i'm working, i read a lot. Besides my isolated and solitude existence in the studio (kind of a hermit between 9 and 19h), it feels good to have a pint with some friends, to smoke and to talk and making jokes, in the evening.
Kan je één van je werken voorstellen? Kan je dit wat meer gedetailleerd omschrijven?
Ik heb liever dat de mensen naar het werk kijken. Dan wil ik er gerust over praten. In de vorige antwoorden spreek ik er trouwens ook over.
Name 1 of your works that you want to describe a little more in detail.
I prefer people come and look at my work. Then, I like to talk about my work. I answered this topic in the previous questions.
Je hebt een website met je portfolio, denk je dat dit je werk goed voorstelt? Wat vind je de plus en minpunten van een online portfolio?
Ik heb een dubbel gevoel met sites. Natuurlijk is het handig. Je hoeft geen dossiers op te sturen, mensen kunnen je werk sneller vinden, gemakkelijker leren kennen. Maar er schuilt ook een gevaar. Ik vind dat alles veel "platter" wordt. De beelden verliezen aan kwaliteit (zeker in mijn geval) en ik sta ook wantrouwig t.o.v die snelheid van communicatie, het gemakkelijke bereikbare en het teveel aan communicatie. Je kunt het Prado museum ook virtueel gaan bezoeken. Maar ik neem liever de tijd om mij te verplaatsen en een schilderij van Velázquez in het echt te zien.
You have a portfolio website. Do you think it reflects your work in a good way?
I have a mixed feeling with websites. It is a handy tool, you do not have to send your files by regular post, people get to know your work faster, they can find you easier. But there is a danger in all this. I believe my work becomes more "flat". The images lose a lot of their original quality. I have my doubts towards the speed of communication, "the easy reach" character of it and the communication overload it brings
It is possible to visit the Prado museum virtual, but I prefer to take the time to travel and to look at the Velázquez paintings in real life.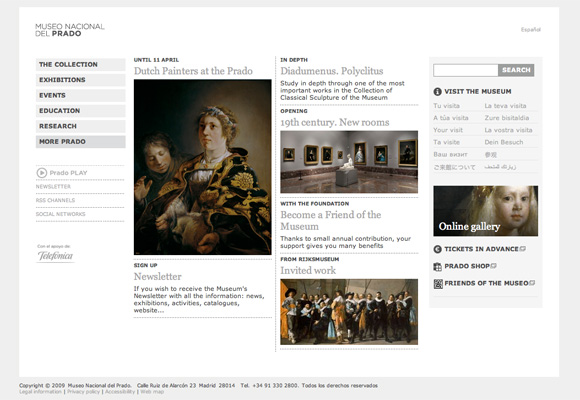 Kan je een aantal adviezen opsommen die je je collega designers-artiesten mee wilt geven?
Nieuwsgierig blijven en veel werken.
What can you advice to fellow artists/visual designers?
Be curious and work hard.
Wat doe je om inspiratie te vinden? Wie en wat inspireert jou?
Ik geloof niet echt in inspiratie. Het gaat hem eerder over concentratie, observatie, ontvankelijkheid, geduld en moed. Je moet ook klaar en alert zijn om zogezegd toevalligheden te zien en te gebruiken. Om te eindigen wil ik even de cineast Bresson citeren: "On peut avoir une idée, mais elle doit être assez vague afin qu'elle puisse changer en court de route ..."
What do you do to find inspiration? Who and what inspires you?
I don't really believe in "inspiration" as such. It is more about concentration, observation, receptivity, patience and courage. You have to be ready and alert to view and use these coincidences.

To finish, i would like to cite the cineast Robert Bresson: "On peut avoir une idée, mais elle doit être assez vague afin qu'elle puisse changer en court de route ..."
I would like to thank Benoît for this interview!
If you want to know more about his work, please visit his website and contact him through the contact form on his website, thanks.
note: all images are copyrighted - Benoît van Innis - 2010
---