Coding a layout in HTML5 and CSS3
Posted by Benedikte Vanderweeën on 02/05/2010
Since several months, i'm reading - in between client work - about the HTML 5 and CSS 3 specifications. Many blog writers encourage web designers to implement - already - some of the new HTML 5 and CSS 3 features in their websites (progressive enhancement).
I'm trying out here a very simple example layout/mockup that I will code in HTML 5 and CSS 3 to have a snippet (code) that i can implement later on in my design code. I'm not implementing new HTML 5 elements like video, canvas, etc... I will only cover the layout and structure of a HTML 5 document. Here we go:
A simple design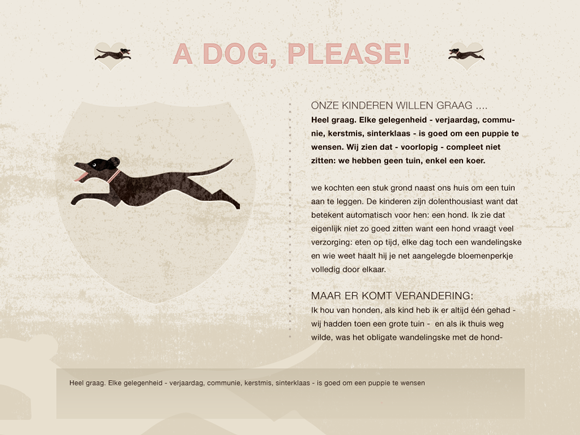 I chose to make a really simple layout so I can use the basic setup of the page for other projects too.
Making a HTML structure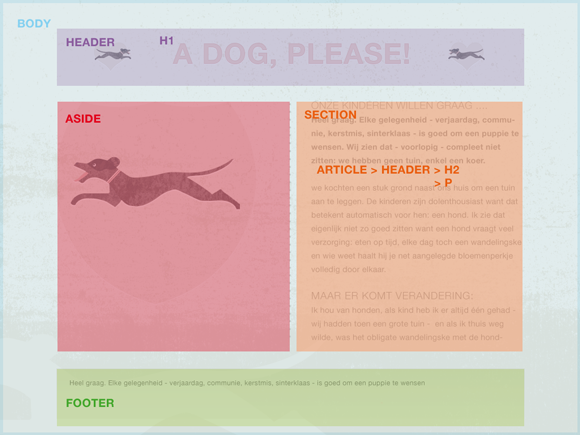 Before we can start writing html code, the lay-out is structured in :
header > h1 for the introduction heading
aside for the illustration background
section > article > header > h2 for the title of the article
section > article > p for the content of the article
footer
Writing the html and css
The document structure with html5 elements
<!DOCTYPE HTML>
<html>
<head>
<meta charset="UTF-8" />
<title>An example html5 document</title>
</head>
<body>
<header>
<h1>Title</h1>
</header>
<aside>
<p>illustration</p>
</aside>
<section>
<article>
<header>
<h2>Title</h2>
<p>content</p>
</header>
<p>content</p>
</article>
</section>
<footer>
<p>content</p>
</footer>
</body>
</html>
css for global html

/*Layout*/

html {
	margin: 0;
	padding: 0;
	background: #eee9df url(../images/tile1.png) center top repeat;
}


css for body and specific html5 elements

body {
	width: 940px;
	margin: 0 auto;
	font: 10pt/1.5em Helvetica,"Helvetica neue", Arial, sans-serif;
}

/*HTML 5 specific*/
header,section,article,aside,footer{
	display: block;
}

css for header

h1 {
	font: 32pt Helvetica,"Helvetica neue", Arial, sans-serif;
	background: url(../images/header-bg.png) center top no-repeat;
	text-align: center;
	text-transform: uppercase;
	color: #e5b7ad;
	padding-top: 30px ;
	text-shadow: 1px 1px 2px #fff; 
}

css for aside
aside{
	float: left;
	width: 470px;
	min-height: 480px;
	background: url(../images/aside-bg.png) center top no-repeat;
	margin: 0 0 20px 0;
}
css for section and article

section{
	float: right;
	width: 428px;
	padding-left: 20px;
	margin: 0 0 20px 0px;
	border-left: 2px dotted #b2a497;

}

section h2 {
	font: 14pt Helvetica,"Helvetica neue", Arial, sans-serif;
	font-weight: lighter;
	text-transform: uppercase;
	color: #493831;
	padding-bottom: 10px;
	margin: 0;
}

css for footer

footer{
	clear:both !important;
	width:940px;
	height: 100px;
	padding: 10px;
	color:#200f08 ;
	background:#ddd3bf;
	
	/*Opacity*/
	filter:alpha(opacity=50); /* msie */  
	-moz-opacity: 0.50; /* firefox 1.0 */  
	-khtml-opacity: 0.50; /* webkit */  
	opacity: 0.50; /* css 3 */

	/*Gradient*/
	background-image: -moz-linear-gradient(top, #ddd3bf, #bcae91); /* FF3.6 */
	background-image: -webkit-gradient(linear,left top,left bottom,color-stop(0, #ddd3bf),color-stop(1, #bcae91)); /* Saf4+, Chrome *
	filter:  progid:DXImageTransform.Microsoft.gradient(startColorStr='#ddd3bf', EndColorStr='#bcae91'); /* IE6,IE7 */
	-ms-filter: "progid:DXImageTransform.Microsoft.gradient(startColorStr='#ddd3bf', EndColorStr='#bcae91')"; /* IE8 */

	/*Round corners*/
	-moz-border-radius: 12px; /* FF1+ */
	-webkit-border-radius: 12px; /* Saf3+, Chrome */
	border-radius: 12px; /* Opera 10.5, IE 9 */
}

Implementing javascript
For all HTML5 elements to work in Internet Explorer, we use a javascript that will render the HTML5 elements This javascript was done by Remy Sharp. You can link to it directly from Google code. Visit his website: HTML 5 enabling script
Put this piece of code in the head of your document to link the javascript:


<!--[if IE]>
<script src="http://html5shiv.googlecode.com/svn/trunk/html5.js"></script>
<![endif]-->


Browser testing
This webpage was successfully tested in:
Mozilla Firefox for Mac 3.6.3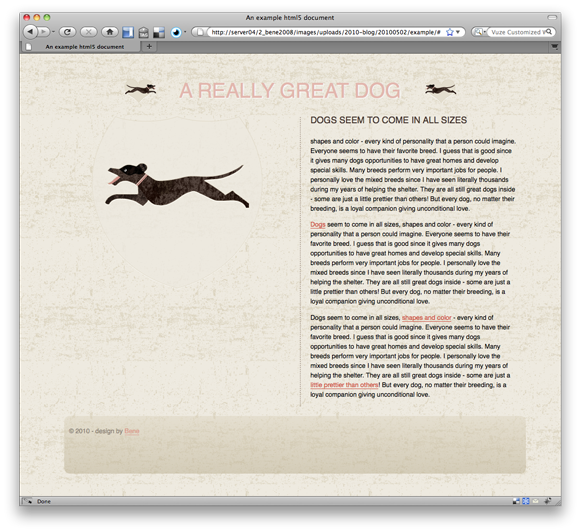 Safari for Mac 4.0.5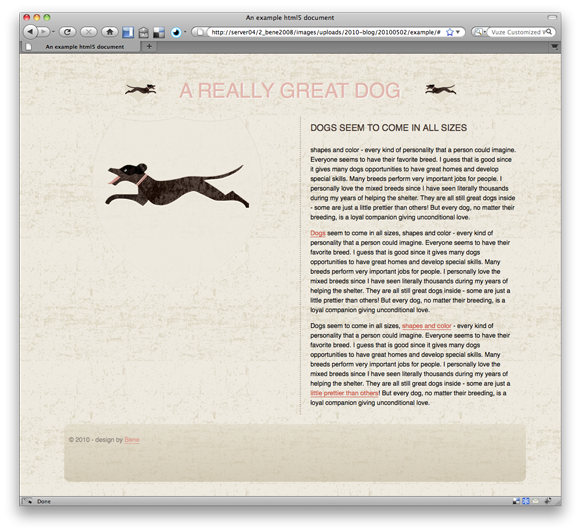 Google Chrome for Mac 5.0.342.9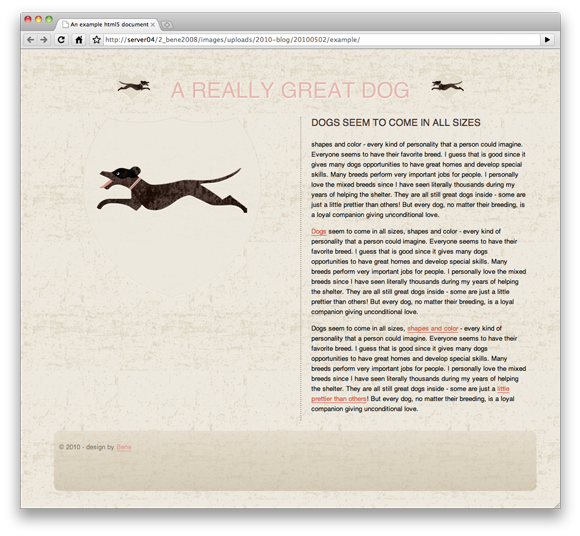 Further reading and resources:
HTML5
CSS3
Browser support
Download the template
---